Media/Blog
Jan
22
Residential tower could be tallest building in Las Vegas' Symphony Park
By By Shea Johnson Las Vegas Review-Journal | Read the original article here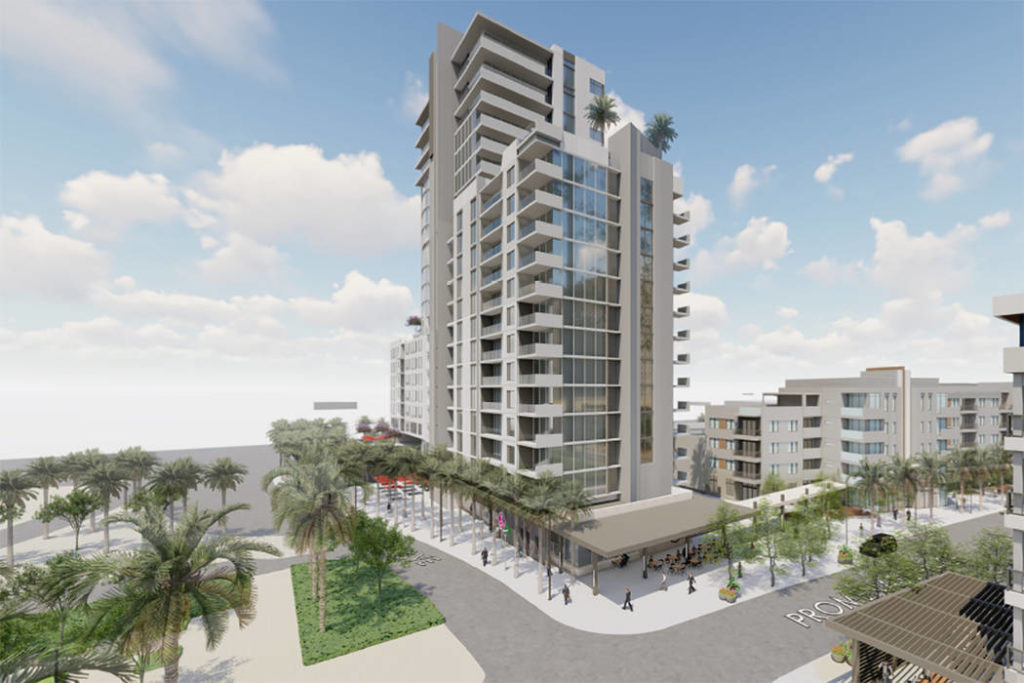 Rendering of residential buildings planned for Symphony Park in downtown Las Vegas. (Southern Land Company)
The tallest building in Symphony Park by 2024 could be a residential tower stretching to 18 stories, with a familiar developer receiving City Council approval to build 400 market-rate units in downtown Las Vegas.
Nashville-based Southern Land Company, which is already constructing the five-story, luxury Auric Symphony Park project just north of The Smith Center for the Performing Arts, recently purchased two adjacent lots west of its existing project — including one parcel owned by the city — to start its latest development.
The new project, still untitled, will consist of two buildings connected via a three-story parking structure.
One of the buildings is planned to be 18 stories, said Alex Woodin, the director of acquisitions for Southern Land Company.
It will become the tallest structure in Symphony Park, according to Councilman Cedric Crear, whose district includes the 61-acre park, home to The Smith Center, Discovery Children's Museum and Cleveland Clinic Lou Ruvo Center for Brain Health.
For context, the residential building would be two stories taller than the neighboring World Market Center's largest building and far taller than other projects underway in Symphony Park, including the six-story Marriott convention hotel and five-story Auric residential development.
Project details
The 18-story building will have a minimum of 200 apartments and at least 12,500 square feet of ground floor commercial space, according to city officials.
The other building is expected to be at least four stories with a minimum of 200 residential units. The two buildings will share an estimated 10,000 square feet of space for amenities.
Construction is scheduled to begin in fall 2021 and be completed within three years, said Bill Arent, the city's economic development director.
"This is an exciting project for the city and Symphony Park," Arent told the council last week. "I think it's validating everything that the city is doing with all the investment we're making in downtown in the interests for people to move into downtown and live in downtown."
Woodin said they were aiming for an art deco style with shaded pedestrian walkways to encourage movement on the project's ground floor and in the Symphony Park area.
He added that the residential project would architecturally complement Auric and The Smith Center but be distinctive enough to avoid being too similar.
Land deal
To move the project forward, the city agreed to sell a roughly 1.84-acre parcel for $2.5 million to Southern Land Company, which first purchased an adjacent parcel needed for this project from another developer.
The city's sell price was less than two appraisals that showed the property was worth between $2.66 million and $3.02 million, but Arent said the slight discount was in the public interest to attract a project on this scale.
The development is projected to provide 879 direct and indirect jobs, an important detail for Crear, whose Ward 5 district maintains about a 15 percent unemployment rate, he said.
The city might also reimburse Southern Land Company as much as roughly $240,000 for environmental remediation efforts still required at the site, part of a former Union Pacific rail yard, according to Arent.
But anything above that figure would be the responsibility of the company to pay.
Contact Shea Johnson at [email protected] or 702-383-0272. Follow @Shea_LVRJ on Twitter.
;
Dec
13
New report predicts strong Las Vegas housing market
By By Bryan Horwath A version of this story was posted on lasvegassun.com. | Read the original article here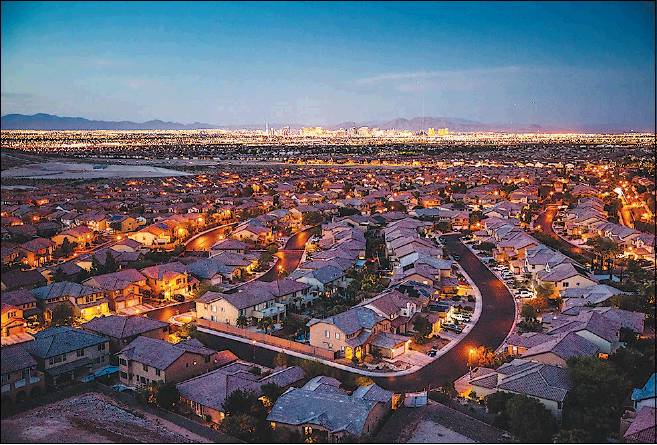 MAX WHITTAKER / THE NEW YORK TIMES FILE (2018)
A new National Association of Realtors report lists Las Vegas as one of 10 U.S. housing markets expected to show strength during the next three to five years, contradicting a report earlier this month that predicted home prices here would drop by about 1% next year.
The National Association of Realtors is predicting the Las Vegas housing market will likely overperform over the next several years, contradicting a recent report from a national real estate listing website.
Las Vegas was listed as one of 10 U.S. markets expected to show strength during the next three to five years.
The report specifically cited predicted strong job growth and continued population growth in Las Vegas over the next several years.
The report contradicts a Dec. 4report by Realtor.com that predicted home prices would decline in a quarter of the top 100 housing markets in the nation, including Las Vegas, next year. Realtor.com projects home prices in Southern Nevada will drop by about 1% next year.
The Greater Las Vegas Association of Realtors has also disputed the Realtor.com forecast.
Incoming 2020 GLVAR President Tom Blanchard said the National Association of Realtors report lined up better with where he though the Las Vegas housing market was headed.
"It confirms my thoughts regarding the Realtor.com forecast that was being circulated a week or so ago," Blanchard said Wednesday.
"The Realtor.com forecast didn't make sense to me," he said. "The Las Vegas market shows all signs to continue steady sustainable growth through 2020."
A third national real estate organization, database website Zillow, predicted in a report Tuesday that the national housing market would remain stable next year.
Zillow economists said they didn't expect the U.S. economy to fall into recession in 2020.
Cheryl Young, a senior economist for Zillow, said she expected home prices in Las Vegas to expand at a modest rate next year.
"Price growth will be slow, but positive," Young said. "This past year was a year of transition for the Las Vegas metro. An infusion of supply helped to temper the hot home value growth in recent years."
GLVAR's November report showed the median price for a home in the Las Vegas area was $307,000, unchanged from the association's October figure and up just over 4% from November 2018.
The all-time average high for the region was $315,000 in June 2006, just before the recession that eventually led to the average home price bottoming out at $112,000 in early 2012.
Along with Las Vegas, nine other metro housing markets were identified by the National Association of Realtors to overperform in the next three to five years.
Those markets are: Dallas-Fort Worth; Columbus, Ohio; Charleston, S.C.; Charlotte, N.C.; Ogden, Utah; Raleigh-Durham, N.C.; Tampa, Fla.; and the Colorado cities of Fort Collins and Colorado Springs.
[email protected] com / 702-259-4073 / @bryanhorwath
;
Oct
16
Vegas to LA high-speed train looking more realistic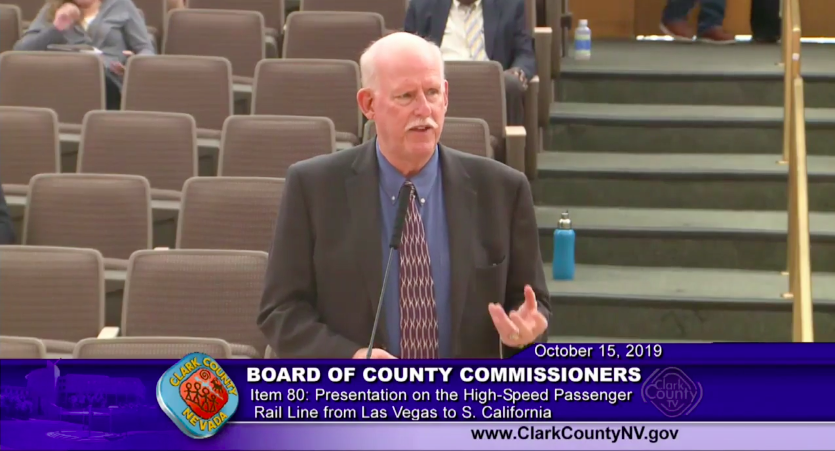 By Mick Akers Las Vegas Review-Journal | Read the original article here
After years of chatter, Virgin Trains USA appears ready to bring the long-discussed Las Vegas to Southern California high-speed rail project to life.
Bob O'Malley, Virgin Trains' vice president of corporate development, told the Clark County Commission on Tuesday that the Las Vegas to Victorville, California, rail line is on track to break ground in the middle of next year, with operations to start toward the end of 2023.
The station would be on Las Vegas Boulevard between Warm Springs and Blue Diamond roads, moving away from a long-rumored site near the Rio.
"We had a number of different sites (in mind) when Virgin Trains came out and announced we were behind this project," O'Malley said Tuesday after the commission meeting. "As you could imagine, numerous property owners came out of the woodwork and said, 'We have a better site for you.' We did our due diligence, and this was the right fit for us. I think it fits not just from a transportation operation standpoint, but nicely with the community and the overall reach."
Finding a location within easy access to the resort corridor, Allegiant Stadium — which will have a parking lot with shuttle service to the stadium in the vicinity — McCarran International Airport and Interstate 15 made the site ideal for Virgin Trains, O'Malley said.
Similar to what it has done at one of its projects in Florida,Virgin Trains plans to build around the train station, which could include office, living and retail space, O'Malley said.
Design plans for the rail line are nearly 30 percent complete, and a construction crew has been hired, O'Malley said.
Contingent on bonds
The timeline is contingent on Nevada approving tax-exempt, private activity bonds to go toward the project next month.
Before going in front of the Nevada Department of Business and Industry on Nov. 11, Virgin Trains is seeking the backing of the Clark County Commission, which will vote on a resolution of support for the project at its Nov. 5 meeting.
"We've come to this point where we do have a serious partner in Virgin who brings the funding and expertise," Commissioner Michael Naft said. "This is a significant project for this community and one we've been waiting for for a long time."
Financing
Virgin is seeking $800 million in bonds to issue $2.4 billion in debt, or half the amount the company needs to finance the trains and the 185 miles of dual tracks along Interstate 15. The amount includes $600 million in bonds from California and $200 million from Nevada.
The Nevada Department of Business and Industry will consider two $100 million requests from Virgin next month, with the first $100 million expected to be decided on at that time.
California last month approved $300 million in tax-exempt, private activity bonds to help finance the proposed Virgin Trains project.
California will consider another $300 million and Nevada an additional $100 million request next year. Obtaining the total bond amount sought between the two states would allow Virgin Trains to be eligible for federal grant funding, amounting to a 4-to-1 match.
Florida blueprint
The Las Vegas-to-Victorville line would be the first step toward linking Las Vegas to Union Station in downtown Los Angeles.
Success in Florida
Brightline bought the California and Nevada venture from XpressWest last year, then partnered with Virgin Trains and rebranded, looking to expand high-speed rail in Florida, California and Nevada.
Virgin Trains, formerly Brightline, has run a high-speed rail system in South Florida for about a year from Miami to Fort Lauderdale to West Palm Beach, with an expansion to Orlando underway.
O'Malley said the much-hyped Las Vegas to Southern California line will generate $1.98 billion in economic impact, create more than 1,000 construction jobs, transport 5.5 million visitors to Las Vegas annually and remove 4.5 million cars from I-15 annually.
While residents in Nevada and California may doubt the project because of its history of talk and no results, O'Malley said Virgin Trains' work in Florida should alleviate those concerns.
"We've done it in Florida, and we're applying the same model here and we execute," he said. "We're a transportation company that's building a transportation system, and we know how to do this."
Contact Mick Akers at [email protected] or 702-387-2920. Follow @mickakers on Twitter.
;
Oct
6
Raiders' Gruden, Carr building homes in Southern Highlands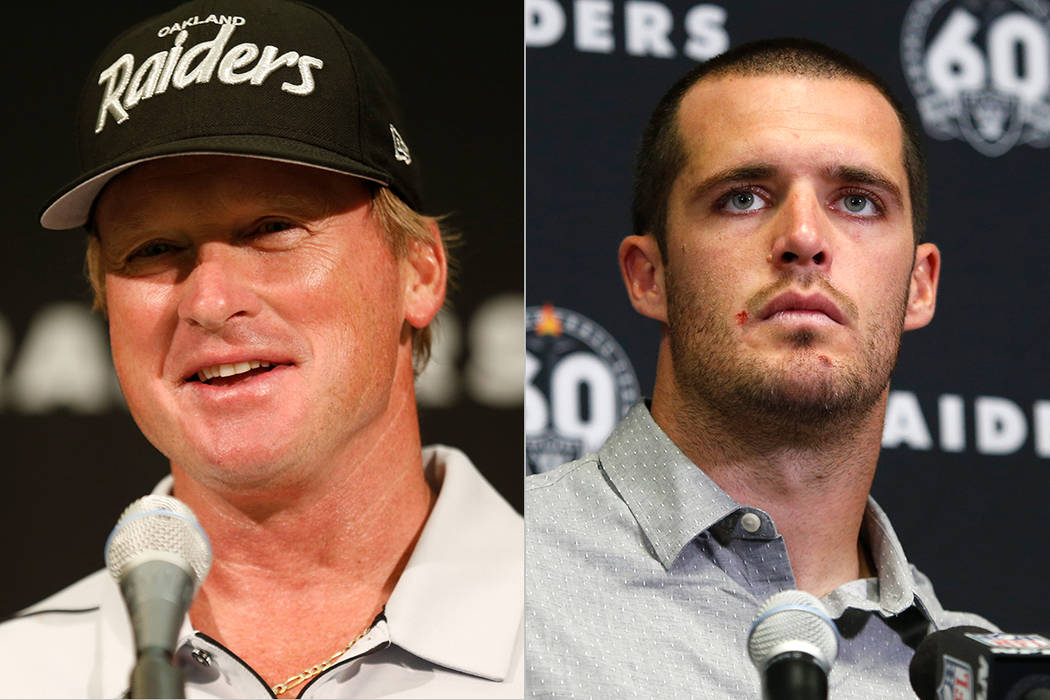 By Buck Wargo Real Estate Millions | Read the original article here
Mystery solved on where Oakland Raiders coach Jon Gruden and his quarterback Derek Carr will be neighbors when the team relocates to Las Vegas in 2020 — a mystery prompted by a sports story that made national headlines.
It's Southern Highlands in the southern portion of the Las Vegas Valley.
The story became public in August when Carr's brother, David, told the NFL Network that the two would be living next to each other when they moved to Las Vegas. He said his brother's home was under construction.
"So, he has a home in Vegas, yes. So, he purchased this home and it is not complete, yet they're still finishing. But his next-door neighbor is one Jon Gruden," David Carr said of his brother on the NFL Network. "I think what happened is he found out where Jon Gruden lived, and he just moved in, right next door."
Derek Carr, who is under contract through 2022 for $125 million, later confirmed the news to reporters without going into detail about the location.
"We are next-door neighbors. We will be, yes, but that's for the future. That'll be fun," Carr said. "Hopefully, a lot of knocks on the door. Maybe we can carpool. That would be good for us. We might knock down the fence and just make it one. We'll see."
But the two initially did not know they were going to be neighbors, as neither one knew the other was building a home in the same Southern Highlands neighborhood.
Local Realtors said Carr was checking out other luxury communities in the valley before opting for Southern Highlands, which is close to the Raiders' practice facility under construction on the east side of the Interstate 15 in Henderson. It's also a straight shot down the freeway to the under-construction, $2 billion Allegiant Stadium, where the Raiders will play.
The confirmation of Southern Highlands comes from the records of the Clark County assessor's office: Jon and Cindy Gruden of Danville, California, paid $750,000 for a lot measuring 0.91 acres in Southern Highlands. The land sale agreement is dated July 15, but it shows it was recorded with Clark County on Aug. 16. Gruden bought it from Shadow Estates LLC. The Gruden estate is on two lots. The second lot measures 0.77 acres and is listed under the ownership of Progressive Construction Inc., which does business as Growth Luxury Homes. The second lot will be transfered to Gruden's ownership upon completion of the home.
Steve Escalante, business development director for Growth Luxury Homes, said construction on the Gruden home started in August and will be completed by next summer.
It measures about 8,000 square feet with two stories and a six-car garage. It is on an elevated lot without neighbors on one side.
"It's a beautiful estate and will have a big pool," Escalante said. "It has an amazing office for Jon and will be a great property. It's a private lot, and from the second level, you will have views of the city and part of the Strip as well."
Escalante would not disclose the price of the home but said the homes in the area are worth millions of dollars.
Gruden agreed to a 10-year deal worth $100 million in 2018.
"They have the best of both worlds and something that's quite beautiful," Escalante said. "It will have all the bells and whistles that you would expect from one of the best head coaches to have. Southern Highlands is a fantastic community with one of the top-rate golf courses in the entire country. It's the only community you have lush greenery throughout. (Something) that you would find on the East Coast. It has unique characteristics that are hard to find in the desert."
The Olympia Cos., the developer of Southern Highlands, declined to comment on the two homes being built there. Carr is represented by Coldwell Banker Premier Realty, which declined to comment, citing a confidentiality agreement.
Escalante said his company isn't working with Carr on building his home and didn't know the name of the builder.
Growth Luxury Homes is holding discussions with other athletes to build in Las Vegas, but Escalante declined to disclose any names.
"It's not just football players, but other sports as well," Escalante said.
Earlier this year, Raiders President Marc Badain bought a new home in Southern Highlands for $2.13 million.
Members of the Golden Knights chose to live in Summerlin to be closer to the practice rink. It's looking like it will be the same trend for the Raiders and their Henderson headquarters.
;
Mar
19
Google data center site taking shape in Henderson
By Bailey Schulz / Las Vegas Review-Journal | Read the original article here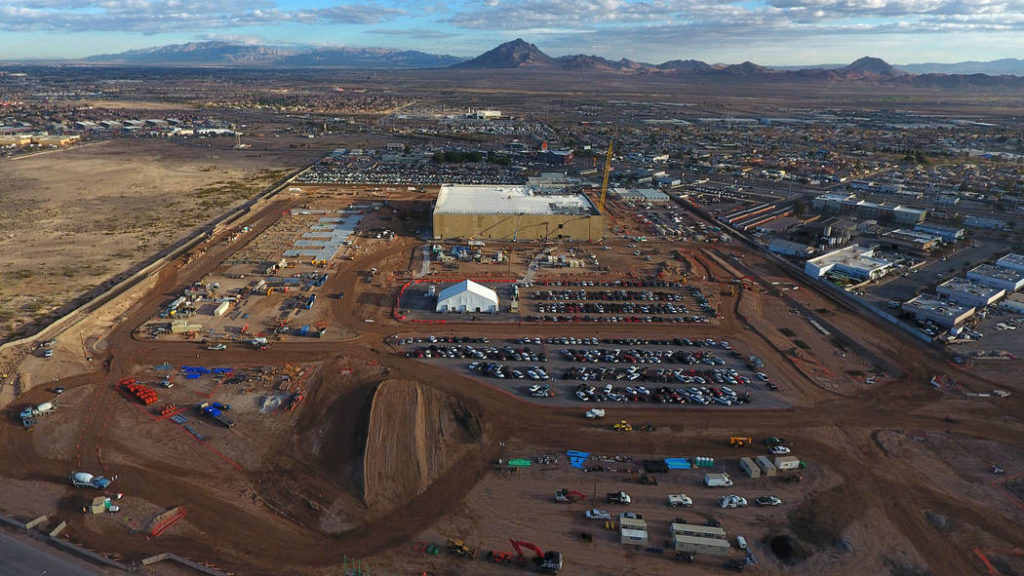 Just four months after receiving tax abatements from the state, the site of a Google data center in Henderson is beginning to take shape.
Photos show increased activity on the construction site, with trucks, concrete mixers and orange fencing scattered around the lot near Warm Springs Road and Boulder Highway. In one corner, a large building sits upon what was 64 acres of flattened dirt just four months ago.
On Nov. 15, the Governor's Office of Economic Development approved $25.2 million in tax abatements for Design LLC, a wholly-owned subsidiary of Google. The subsidiary will own the facility and is in charge of its construction, while Google will handle operations and hiring.
"It takes a dedicated team of local, regional and state partners to bring a project like this to life, and we are proud that Google saw the tremendous potential of expanding and growing in Southern Nevada," said Jonas Peterson, president and CEO of the Las Vegas Global Economic Alliance.
;
Mar
18
MSG Sphere excavation begins near Las Vegas Strip
By Richard N. Velotta / Las Vegas Review-Journal | Read the original article here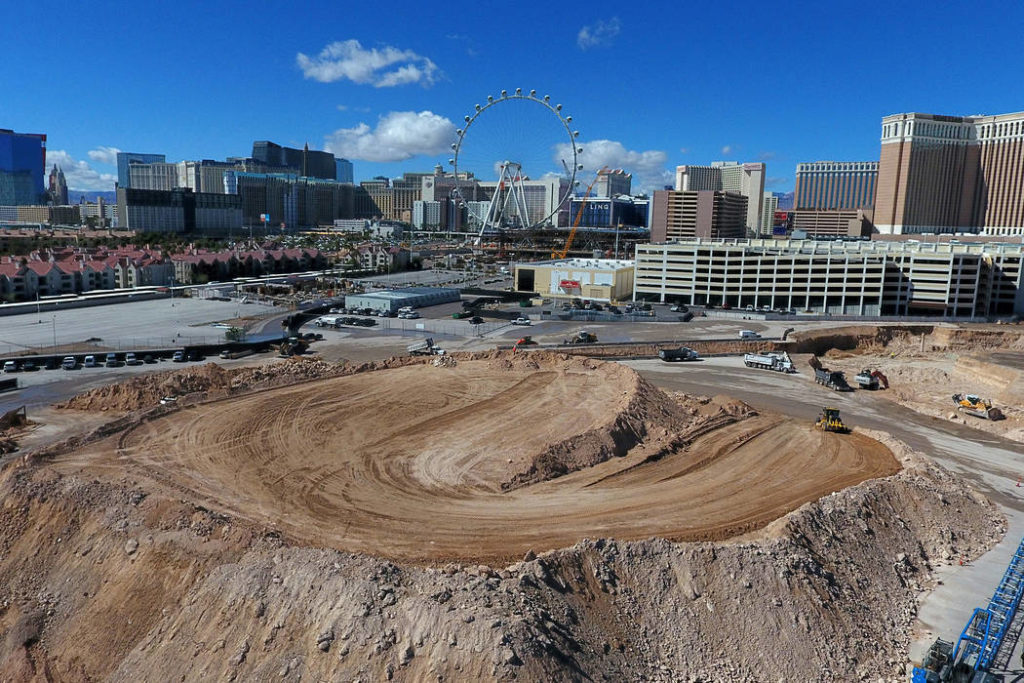 Construction equipment has been mobilized and excavation has begun for the 18,000-seat performance venue being developed by The Madison Square Garden Co. on 18 acres of a 63-acre site east of The Venetian and Palazzo.
Six months after a groundbreaking event, crews have assembled to begin work on the MSG Sphere at The Venetian, a globe-shaped building that will be 360 feet tall with a diameter of 500 feet.
The site is off Sands Avenue between Manhattan Street and Koval Lane.
An estimated 3,500 local construction workers are expected to be hired at various points of development, and the venue is expected to provide 4,400 permanent jobs once it's completed, which is projected to be in 2021.
The building will have a 160,000-square-foot indoor spherical digital display pane, and the exterior will have a 580,000-square-foot programmable surface.
The company has promoted first-of-its-kind sound technology for the building that will include directed "beamformed" sound transmission and will let patrons feel the vibrations of low-register sound from an infrasound haptic floor system.
A 1,100-foot pedestrian bridge will be built from the Sands Expo & Convention Center to the Sphere, and a new stop on the Las Vegas Monorail is planned.
;
Mar
18
Kofi named an Icon of Beverly Hills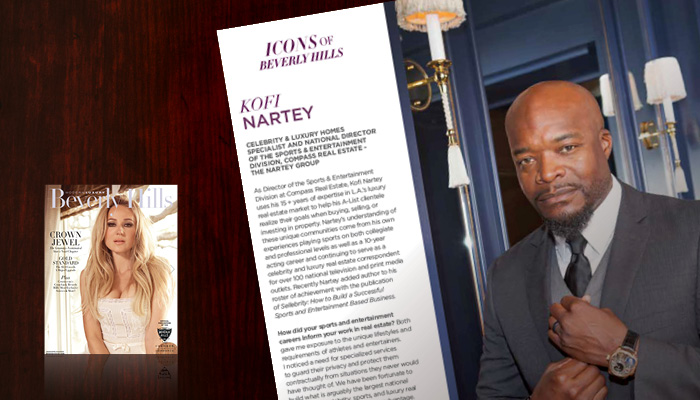 Modern Luxury Beverly Hills – the official publication of the Beverly Hills Chamber of Commerce – has named The Nartey Group's Kofi Nartey an Icon of Beverly Hills, an honor that included a write-up in the Fall/Winter issue of the magazine. Kofi's interview can be found below, and can also be read in the magazine's digital edition.
- - -
Kofi Nartey: Celebrity & luxury homes specialist and National Director of the Sports & Entertainment Division – Compass Real Estate – The Nartey Group
As Director of the Sports & Entertainment Division at Compass Real Estate, Kofi Nartey uses his 15+ years of expertise in L.A.'s luxury real estate market to help his A-list clientele realize their goals when buying, selling or investing in property. Nartey's understanding of these unique communities come from his own experiences playing sports on both collegiate and professional levels as well as a 10-year acting career and continuing to serve as a celebrity & luxury real estate correspondent for over 100 national television and print media outlets. Recently, Nartey added author to his roster of achievement with the publication of Sellebrity: How to Build a Successful Sports and Entertainment Based Business.
How did your sports and entertainment careers inform your work in real estate?
Both gave me exposure to the unique lifestyles and requirements of athletes and entertainers. I noticed a need for specialized services to guard their privacy and protect them contractually from situations they never would have thought of. We have been fortunate to build what is arguably the largest national database of celebrity, sports and luxury real estate clientele, which is a huge advantage. I also obtained my MBA to bring more of a business approach to my real estate business.
How does the Beverly Hills community inspire your work?
Relationships are everything, so having made great business and personal connections in Beverly Hills has been key. There is also a lot of overlap with our clientele, as luxury homeowners also enjoy luxury goods and services, so having referrals for everything from watches to wealth managers and single malt scotches to private aviation has been tremendously helpful.
What's on the horizon for 2019?
More growth and more giving through our family's Nartey Sports Foundation. We donate a portion of every real estate deal to this cause that supports underserved youth in sports. Professionally, 2019 will bring a slight shift in the market, so we will continue to be the advisors that help our clients make the best decisions.
;
Mar
18
Hollywood and Highland shopping center reportedly for sale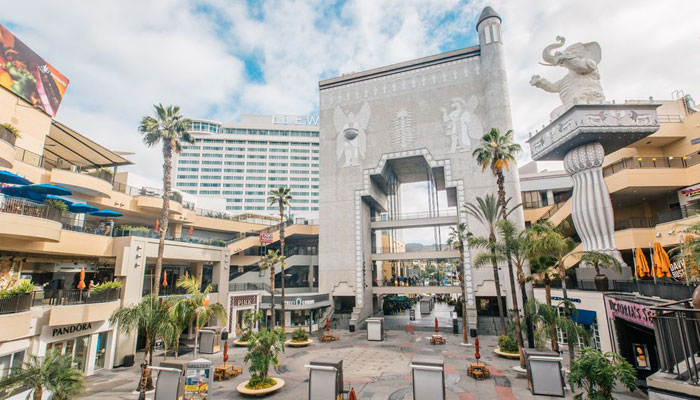 By Bianca Barragan for Curbed Los Angeles | Read the original article here
Ownership of the Hollywood and Highland shopping center could be changing. The Real Deal reports that owner CIM Group and Abu Dhabi Investment Authority have listed the roughly 450,000-square-foot tourist magnet for sale.
Sources tell The Real Deal a sale could bring in as much as $300 million.
Located along the Walk of Fame, Hollywood and Highland stands out, perhaps in large part because of it unusual design, inspired by a Babylonian film set from a 1916 epic directed by Birth of a Nation's D.W. Griffith.
The retail center opened in 2001 and has been owned by CIM since 2004. Hollywood and Highland holds a Sephora, a Forever 21, and a fancy bowling alley. Rascal Flatts was supposed to have a restaurant in the mall, but the country music trio was later sued by their partner in the restaurant deal (the partner claimed the musicians pocketed the money instead of using it to build the eatery).
The shopping center sits above Metro's Hollywood/Highland subway station, and its namesake intersection received a scramble crosswalk two years ago.
The sale would not include the neighboring Dolby Theatre, which hosts the Oscars and is owned by the city. (CIM is the operator of the theater.)
Mar
18
Big Bunker Hill project by Frank Gehry getting underway this month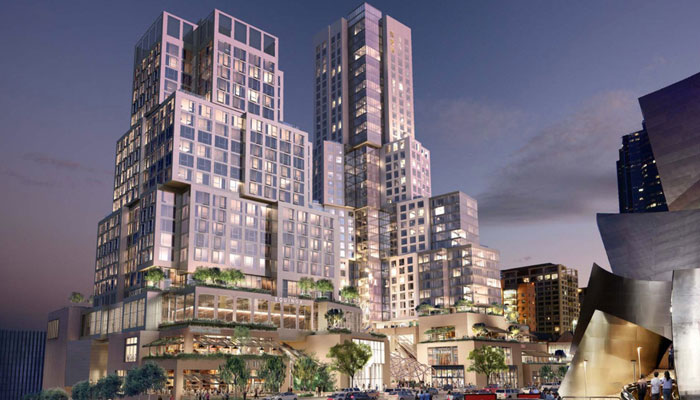 By Bianca Barragan for Curbed Los Angeles | Read the original article here
A highly anticipated apartment, hotel, and shopping complex designed by Frank Gehry atop Bunker Hill takes a big step forward today. Developers for The Grand (formerly the Grand Avenue Project) announced they have secured $630 million in construction financing for the $1 billion project.
Pre-construction work, including demolition on a parking structure on the property, will begin this month on the Grand Avenue site. The property sits just east of the Walt Disney Concert Hall, as new renderings show.
A groundbreaking ceremony is scheduled for sometime in the "upcoming months," say developers Related Companies and the China-based CORE US, a partnership between China Harbour Engineering Company and CCCG Overseas Real Estate. Related has long said it plans to break ground on the project in 2018.
When complete, The Grand will include a 20-story hotel, retail and entertainment, and a 39-story residential tower with 128 condos, 214 market-rate apartments, and 86 affordable housing units. The Grand's two towers will rise on a parking lot just east of the Walt Disney Concert Hall.
Any forward movement on the project will likely be welcomed by boosters who've waited for over a decade to see the bulk of the project come to fruition. (Related once hoped to get the project underway in 2007.)
Other elements of the Grand Avenue project have already been built, including the Emerson apartment tower and Grand Park.
Bunker Hill is on an upswing, development-wise. A major project planned at the corner of Fourth and Hill would bring an 88-story tower, hundreds of hotel rooms and condos, retail space, and an elementary school to the neighborhood.
At the site of a former Marriott on Figueroa near Third Street, a 77-story tower is planned that would be taller than the Wilshire Grand. And at the site of the World Trade Center on Figueroa and Fourth, prolific landlord and developer Jamison plans to put in a 41-story tower with 750 residential units.
;
Mar
18
Santa Monica ballot measure would require 'supermajority' vote for taller, denser buildings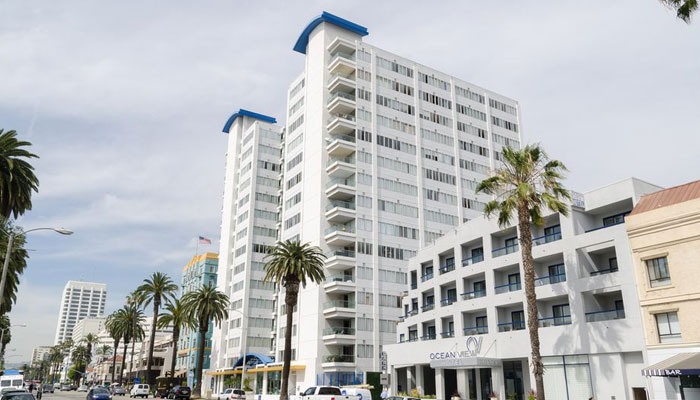 By Jenna Chandler for Curbed Los Angeles | Read the original article here
Development battles in Santa Monica have largely fizzled out. Now, two City Councilmembers seeking reelection say they want to end the building wars for good.
A measure on the November 6 ballot would require developers to get the approval of a "supermajority" of the Santa Monica City Council to deviate from the city's building height and density limits.
If Measure SM passes, for the next 10 years, developers wanting to build taller or denser would need a "yes" vote from five of seven members of the City Council. Right now, the threshold is four votes.
That's an important distinction, says Kevin McKeown, who co-sponsored the measure with Sue Himmelrich. Both councilmembers are seeking reelection.
Historically, votes on some of the biggest, most high-profile development projects in Santa Monica have been split, McKeown says.
"Measure SM eliminates those squeakers that previously got through on the barest majority vote," he says. "It is significantly more difficult for a developer to earn that fifth vote to go beyond our adopted plans."
Councilmembers Gleam Davis and Terry O'Day oppose Measure SM. They argue it would actually incite more fights over development.
"I was so looking forward to having an election on the ballot where we would not have development wars," Davis said in June, when the council discussed it. "Now we are voluntarily inviting election wars."
"The circus is coming to town again," O'Day said. "Here's the sideshow for development fighting."
Two years ago, a far more extreme proposal to curtail building heights in Santa Monica appeared on the ballot. Measure LV would have subjected any new construction taller than 32 feet—the equivalent of two stories—to voter approval.
That measure was defeated at the ballot box, with more than 56 percent of residents voting against it.
But McKeown says it would be a "mistake" to ignore the 44 percent of residents who voted in favor of Measure LV.
If developers want "to exceed our limits in any way, they'd better come to us with a truly spectacular project," he says.
Measure SM has an exemption for housing projects that are 100 percent affordable and projects on school district property. And, according to the Santa Monica Lookout, the measure wouldn't affect development projects that have already been proposed.
The measure was placed on the November 6 ballot measure on June 26 on a 4-2 vote of the City Council.
"The premise of this supermajority provision is that if something is a really good idea, it will get five votes," Davis said at the time. This measure "isn't getting five votes tonight."
"By its own definition, it might not be a very good idea," she said.
;
Mar
18
Tunneling begins on Metro's subway to the Westside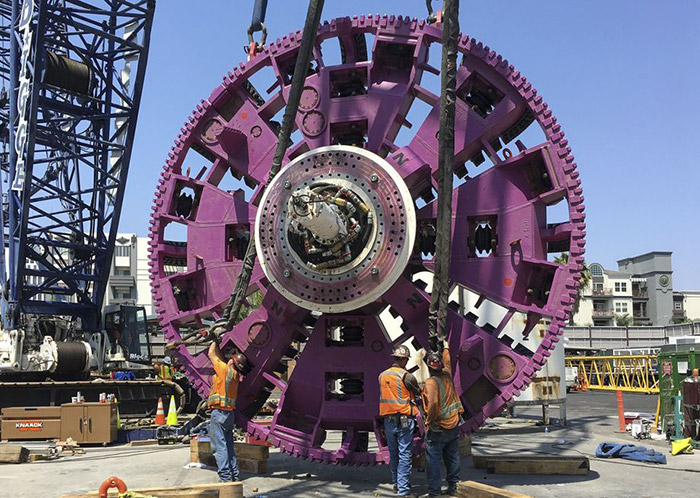 By Elijah Chiland for Curbed Los Angeles | Read the original article here
Tunneling is officially underway on Metro's Purple Line subway extension to the Westside of Los Angeles.
The first round of tunneling started Tuesday beneath the intersection of Wilshire Boulevard and La Brea Avenue.
Twin 450-foot-long tunnel boring machines (dubbed Elsie and Soyeon) will carve out about 60 feet of tunnel daily for the next two years, en route to the Wilshire/Western station, where Purple Line trains now turn back for Downtown Los Angeles.
The first phase of the Purple Line extension broke ground in 2014 and is expected to open in 2023. The $2.82 billion project will add a little under 4 miles of track to the subway route, bringing it to the intersection of Wilshire and La Cienega boulevards.
Eventually, the extension will bring the train all the way to the VA hospital, just west of the 405 on the border of Westwood and Brentwood. The project is being constructed in three segments.
Phase two will run between La Cienega and Constellation Boulevard in Century City. The third phase will add a stop near UCLA en route to the VA.
Altogether, the extension will add roughly 9 miles to the Purple Line and is expected to carry nearly 60,000 riders daily.
But the project isn't popular with Beverly Hills residents and school officials who have sued repeatedly to block the second leg of the project, arguing that tunneling work beneath the Beverly Hills High School campus could pose a threat to the safety of students. Metro officials have steadfastly denied these claims.
Last week, students, teachers, and school administrators in the city gathered at Will Rogers Memorial Park to protest the subway project.
Tunneling work hasn't started yet on the second phase of the project, and Metro spokesperson Dave Sotero told Curbed last week that the agency selected a route that travels beneath the high school because that route "provides the greatest benefits with fewest impacts." Another proposed route along Santa Monica Boulevard would have intersected with an earthquake fault.
Sotero says Metro will continue to look for unmapped oil wells beneath Beverly Hills out of "an abundance of caution."
Protests and legal challenges notwithstanding, Metro expects all three phases of the project to be complete by 2026.
;
Mar
18
Kofi Nartey accepted into Forbes Real Estate Council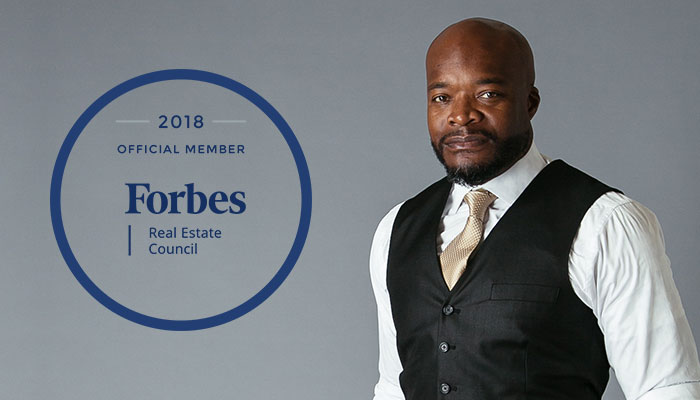 10/11/18 | Beverly Hills, CA - Celebrity & luxury real estate specialist Kofi Nartey has been accepted into Forbes Real Estate Council.
Forbes Real Estate Council is an invitation-only community for executives in real estate.
Kofi and his team – The Nartey Group at Compass – have a long-standing reputation for servicing the real estate needs of celebrity and luxury clientele.
Kofi was vetted and selected by a review committee based on the depth and diversity of his experience. Criteria for acceptance include a track record of successfully impacting business growth metrics, as well as personal and professional achievements and honors.
"We are honored to welcome Kofi into the community," said Scott Gerber, founder of Forbes Councils, the collective that includes Forbes Real Estate Business Council. "Our mission with Forbes Councils is to bring together proven leaders from every industry, creating a curated, social capital-driven network that helps every member grow professionally and make an even greater impact on the business world."
As an accepted member of the Council, Kofi has access to a variety of exclusive opportunities designed to help him reach peak professional influence. He will connect and collaborate with other respected local leaders in a private forum. He will also be invited to work with a professional editorial team to share his expert insights in original business articles on Forbes.com, and to contribute to published Q&A panels alongside other experts.
Finally, Kofi will benefit from exclusive access to vetted business service partners, membership-branded marketing collateral, and the high-touch support of the Forbes Councils member concierge team.
"I am excited to partner with the Forbes brand, and specifically with the Forbes Real Estate Council. Our goals include providing expert service and resources to our clients, while positively impacting the real estate industry. This council will be an integral part of that mission."
About Forbes Councils
Forbes Councils is a collective of invitation-only communities created in partnership with Forbes and the expert community builders who founded Young Entrepreneur Council (YEC). In Forbes Councils, exceptional business owners and leaders come together with the people and resources that can help them thrive.
;
Mar
18
Netflix will lease second office tower under construction now in Hollywood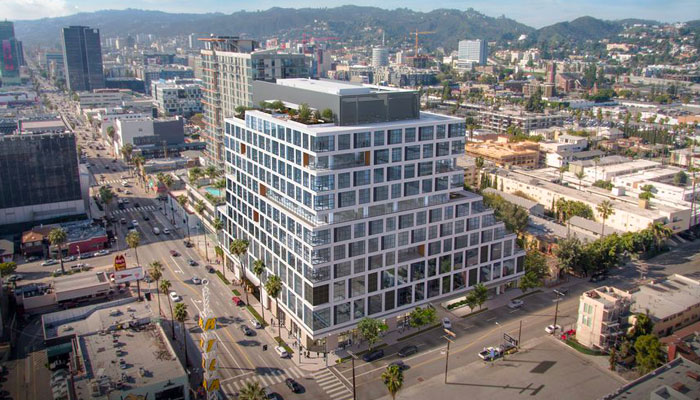 By Bianca Barragan for Curbed Los Angeles | Read the original article here
Netflix is doubling down on Hollywood. Today, developers of EPIC, a 13-story office development on Sunset Boulevard, announced that the streaming company has signed a lease for the entire building.
"EPIC is part of our continuing investment in LA and Hollywood," Netflix's chief financial officer David Wells said in a statement. "We're thrilled to be able to continue to grow our team there."
EPIC is designed by Gensler, and will feature floor-to-ceiling windows, terraces, fire pits, and a rooftop deck. The building will also be outfitted with electric-car-charging stations, bike lockers, and showers.
Developed by Hudson Pacific Properties, EPIC is due to be complete in 2020. Netflix will move into the building in phases that same year. The company's lease at EPIC expires in 2031.
Netflix has already rented the entirety of the 14-story ICON tower and almost 92,000 square in the five-story office building CUE. The company has extended its leases at both building for an additional five years.
Both ICON and CUE are located across the street from EPIC, on the Sunset Bronson Studios lot, and are also owned by Hudson Pacific Properties.
;